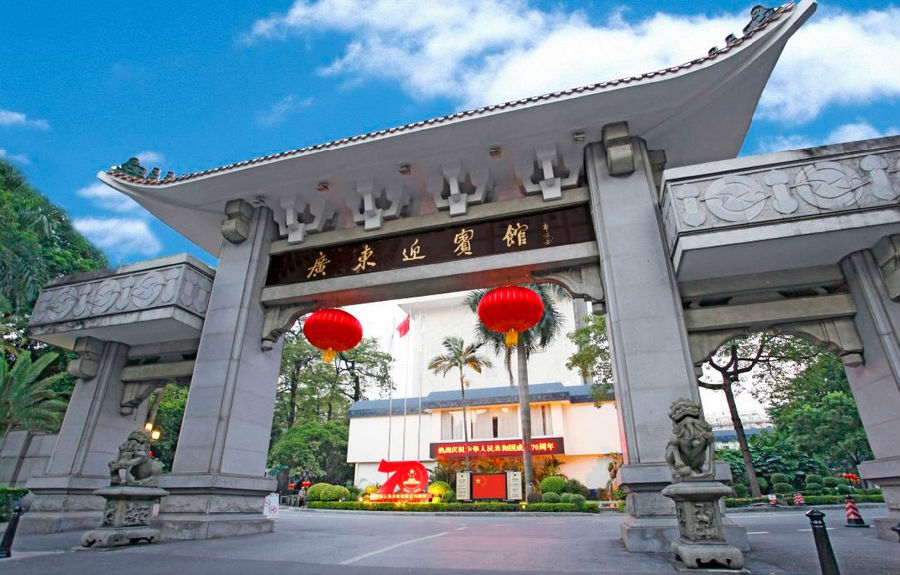 广东迎宾馆具有悠久的历史文化底蕴,地籍人文记载可上溯秦汉,而官宦据有则源自明清。解放前这里是国民党行政院,新中国成立后这里为广州军管会和华南分局行政处招待所。1952年迎宾馆开始组建,1956年正式命名。2017年广东迎宾馆转企改制,现为广东省旅游控股集团的一份子。
Guangdong Yingbin Hotel is famous for the profound history and extensive culture, its history can trace back to the Qinhan Dynasty, and it is the Pingnan Palace and General Palace in Qing Dynasty. Before liberation it was the Executive Yuan of KMT Party. After the People's Republic of China was founded, it changed to be the guest house for Guangzhou Military Commission , as well as the South China Branch Administrative Office. The present Guangdong Yingbin Hotel was formally founded in 1952, and named in 1956. In 2017, we finished the final step of Enterprise restructuring, and is now a member of Guangdong Provincial Tourism Holdings Co.,LTD.
掩映在参天古树中的碧海楼,极富传奇色彩,她曾经是一幢西班牙式别墅,后来经过改建,成为今天一座独具中国岭南特色的楼宇,与园内的净慧楼、六榕楼,一同被广州市政府列入近代、现代优秀建筑群体保护名录。碧海楼现拥有各类客房71间套,大小会议室4间,值得一提的是,碧海楼CEO豪华套房,庄重典雅,富有东方色彩,曾接待过毛泽东、周恩来、金日成、西哈努克、基辛格、尼克松及国际巨星成龙等国内外无数政界名人。
The BiHai Building, hidden in the ancient trees, is very legendary. It used to be a Spanish villa. After being rebuilt, it became a building with unique Chinese Lingnan characteristics, and the Jing Hui Building,the LiuRong Building was listed by the Guangzhou Municipal Government as a group protection list of modern and modern excellent buildings. It is worth mentioning that the CEO Deluxe Suite of BiHai Building is dignified and elegant, Oriental characteristics,it has received Mao Zedong, Zhou Enlai, Kim Il Sung, Sihanouk, Kissinger, Nixon and the International superstar Jackie Chan and countless domestic and foreign political celebrities.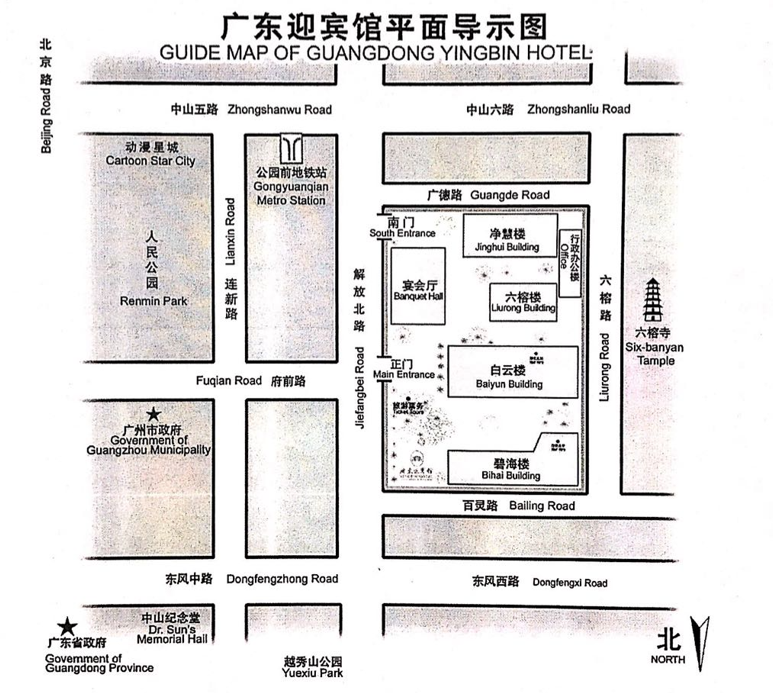 · Conference Hotel:

Guangdong Yingbin Hotel
广东迎宾馆
No.603 of Jiefangbei Road,Yuexiu District,Guangzhou,China
地址:广州市越秀区解放北路603号
Website官网:http://www.yingbinhotel.cn/
· Transportation:
The Channels for Baiyun Airport To Guangdong Yingbin Hotel
By taxi: Need 60mins; About RMB100;
By Subway:Take line 3 from Airport to Jiahewanggang Station(嘉禾望岗站)→Exchange to Line 2 and arrive in Sun Yat-sen Memorial Hall Station Exit D1(纪念堂D1口)→ 10 mins walk to hotel
The Channels for Guangzhou South Railway Station To Guangdong Yingbin Hotel
By taxi: Need 30-40mins; About RMB 80-100;
By Subway:2 and arrive in Sun Yat-sen Memorial Hall Station Exit D1(纪念堂D1口)→ 10 mins walk to hotel
广州所在时区:Time Zone
https://www.timeanddate.com/time/zone/china/guangzhou
· Room Reservation:
Please call Manager Li to make a reservation
Tel: ( 86 ) 18927541393
| | | |
| --- | --- | --- |
| House Type(房型) | Price(价格)/RMB | breakfast(早餐) |
| King Room(大床房) | 550 | 1 |
| Twin Room(双床房) | 500 | 2 |